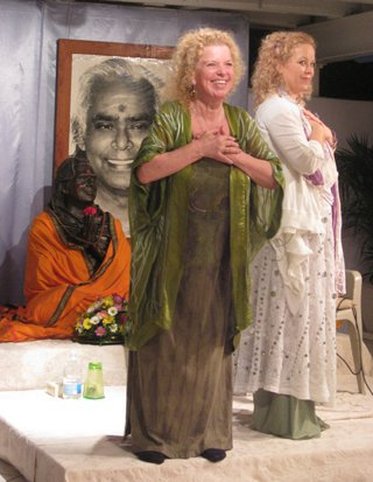 Created from ancient and modern energy healing systems, Energy Medicine was created by Donna Eden, Titanya's mother. Energy Medicine is used to heal and improve our health in subtle, non-invasive ways through the energy anatomy (meridians, chakras and more) and the physical anatomy (muscles, bone, organs, etc.) of the body.
Energy Medicine offers simple exercises through movement and stretch that can help the body in stressful and emotional situations, depression and many chronic illnesses. When practiced, it can help our well-being stay more joyous, calm and energetic bringing an aliveness through our entire body, supporting vibrant health.
"When all your energies are brought into harmony, your body flourishes. And when your body flourishes, your soul has a soil in which it can blossom in the world. These are the ultimate reasons for energy medicine—to prepare the soil and nurture the blossom." –Donna Eden
Donna Eden teaching personal Energy Medicine techniques.
" Energy Medicine brings you vitality when you're drained…Health when you are ill and Joy when you are down!" Donna Eden
Her mother, holistic health pioneer, Donna Eden, author of Energy Medicine, Energy Medicine for Women and The Energy of Love, has conveyed holistic health principles to Titanya since she was a child. Since 1995, Titanya has been involved with Donna Eden's trainings including her national and international workshops.
Donna Eden is one of the world's most effective healers. Able from childhood to clairvoyantly see the body's subtle energies, she not only works with those energies to further health, happiness, and vitality, she has made a career of teaching people who do not see subtle energies how to work with them — joyfully and effectively. She has treated over 10,000 individual clients and has taught thousands of workshops, speaking to packed houses throughout the United States, Europe, Australia, New Zealand, and South America.
---
Energy Medicine- Awaken the Divine Healer Within – Interview with Titanya
---
In 2007, Titanya graduated from the two-year Eden Energy Medicine Certification program. She is now on the faculty, as the company's Movement Director and Ceremonial Mistress, adding sacred spirituality to the educational programs. Titanya regularly leads Energy Dance in most of Donna's workshops world-wide and frequently assists in teaching. She also teaches Classes in Chakras, Five Elements, Life Colors in the certification program. As a professional award winning public speaker, Titanya and her sister, Dondi, helped create and implement the popular "Teach the Teachers-TEEM" , Energy Medicine program. She is often a featured presenter.
Titanya leads her own workshop retreat classes empowering the feminine spirit through dance and movement. As a professional Middle Eastern Dancer of thirty-plus years, she often combines Donna's interpretation of the Chinese Five Elements with Belly Dance. She has now taught these popular annual dance retreat workshops with her sister, Dondi for more than a decade in such locations as Omega Institute in New York and Feathered Pipe Ranch in Montana.
Titanya does not have a personal Energy Medicine practice, but as an expert of the subject, she incorporates Energy Medicine in most of her work. She is available to lead Energy Dance and other Energy Medicine subjects at appropriate events, and teach for various workshops and events.
LEARN MORE about growing up with Eden Energy Medicine. Read More
Gallery
---
"Titanya is the Movement Director at the Eden Energy Medicine Certification Program and travels all around the world, bringing Energy Medicine Dance and Energy Medicine for Kids at her Mother's workshops, over the last 20 years."