About Titanya
Titanya Monique Dahlin
As the daughter of holistic health pioneer, Donna Eden, I am a third-generation intuitive healer who is now internationally recognized for my expertise in teaching alternative medicine; specializing in helping children and adults naturally achieve thriving health and well-being.
Over the years, I have also emerged as one of the leading experts in the world from my deep work in the emerging field of Auric Life Colors, Chakras and The Five Elements.
I am the author of the soon-to-be-released books, Energy Medicine for Kids and the Energy Medicine Playground and a fun new series of colorful, whimsical young children's alternative medicine board books.  As an experienced published author and an accomplished national award-winning speaker with over two decades as a key faculty member and collaborative leader in world-wide Eden Energy Medicine workshops, I have the experience and charisma to be a popular guest workshop presenter or keynote speaker for any holistic event.
Since 1983, I have been sharing my natural connection, knowledge and love of children in a multitude of acclaimed, original workshops, children's play shops and seminars.
CREDENTIALS:
Key faculty and collaborative workshop leader for the Eden Energy Medicine Certification Program and world-wide workshops since the 1980's.

Certified Advanced Eden Energy Medicine practitioner graduate.

Omega Institute Faculty workshop presenter for more than fifteen years.

Feathered Pipe Ranch featured workshop presenter for more than seven years.

Nationally recognized award-winning speaker with more than three decades of experience.

Certified Waldorf Education teacher specializing in children, speech and drama.

Creator of Energy Medicine Dance, a movement modality that provides the benefits of Eden Energy Medicine with the fun of world music and easy movements that anyone can do to find immediate healing benefits. I have led Energy Medicine Dance to thousands and thousands of world-wide students in invigorating and motivating five-minute snippets during Energy Medicine conferences, workshops and as hour-long classes.

Award-winning professional dance and movement instructor with world-wide acclaim.

Professional stage actress and storyteller with more than a decade of experience and success producing my original, acclaimed professional dance and theater programs and productions.  This was during my  twenties and thirties… but I have a new production project I will eventually get done!
When I am not busy teaching and traveling the world, I lives joyously in a pristine California, four-season mountain village with my wonderful two-year old son, loving husband and two magical cats.
---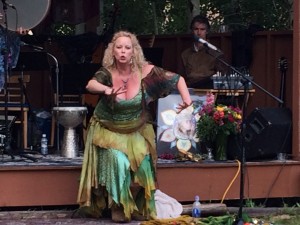 As a Professional Actress…
Titanya has been involved with the theater since she was a small girl, performing in professional college productions at the age of 5. She has won many awards for national speaking and drama. She has directed both children's and adult theater, as well as holds a drama training certification through the Waldorf Educational system.
As a professional actress, Titanya has written, directed and produced plays that have received rave reviews. She is most notably known for her two-hour Mythological Dance/Dramas and one-woman stage productions, Scheherazade ~ The Veil behind the Blade and The Transcendance of Innana. Titanya empowers the feminine spirit and captivates the audience with empowering messages and sacred dance, culture and music. She has produced an eclectic variety of popular belly dance and multicultural dance shows. Always striving to bring peace and healing to our ever-changing world, profound messages always abound in her programs.
Titanya is an animated character, and she directed and costumed many of the characters in the first version of the popular new age video game, Journey to Wild Divine. Watch this very powerful video game, where you use your mind and energy to move you through different dimensions.
As a Middle Eastern Dancer…
---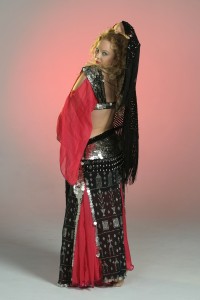 Titanya is part Irish, Scottish, Swedish, three tribes of Native American and Ruthenian (Russian) Gypsy. She is sought after for her knowledge of the history of the dance and its ancient symbolism. She has performed and taught throughout the world. In belly dance, she has been nominated as Best Kept Secret in Zaghareet Magazine, and has won first place in the Scarab Category at the Double Crown Competition in Oregon. Her eclectic dance style stems from her studies in Polynesian, Ballroom, Jazz, African and Flamenco dance. In Middle Eastern dance, Titanya teaches Lebanese, Turkish, Egyptian, "Gypsy", "Flamenco and Polynesian Fusion" and Middle Eastern Folk dance. Her specialty is Zambra Mora and has even gone to Spain to research its origins. Titanya is known for her beautifully unique arm and hand work, veil and fan veils.
Her DVD, Dance the Divine Feminine- Energy Medicine for Women through Belly Dance is available for purchase as a DVD or as a download.
Throughout her life, she has studied many forms of esoteric and healing studies as they relate to dance and movement that led her to create Five Element Belly Dance in 1996, which incorporates the ancient Chinese Five Element system into her belly dance workshops. She and her sister, Dondi, have taught their popular annual resort workshop in this very unique style, at various retreat centers and festivals including Rakkasah Belly Dance Festival and Tribal Fest, Omega Institute, Feather Pipe Ranch, Body, Mind, Spirit Festival in U.K and Australia. As a teacher of Middle Easter dance, she uses the dance to teach female empowerment to women throughout the world.
Titanya rarely teaches or performs in dance anymore, but it was an important part of her life's journey and is still close to her heart.
As a Healing Intuitive…
---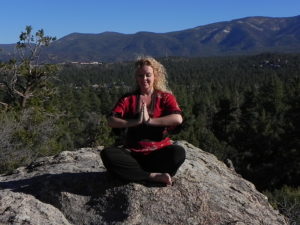 Titanya is the daughter of Leading Health Pioneer, Donna Eden and a third generational healer herself. Titanya began to realize there was a connection to everything that she was doing, and she continued to study Esoteric and Healing studies. "Early on, it was through my dance and storytelling that people would say that they were transformed by my performances. It blew me away!" says Titanya. "My dance has been a powerful way to connect with Spirit… for me and for the audience."
Titanya first found her Inner Healer when she was a dance teacher. "To translate this beautiful ancient form of communication to my students through movement and help them to connect to their own divine feminine source, was satisfying for me. I loved my own dance teachers and I want to let my students have the same wonderful experience that I did."
Throughout the year, Titanya assists Donna Eden in her Energy Medicine workshops leading her own popular form of movement, Energy Medicine Dance! She leads movement to groups of up to 500 students and is always a big hit. She also has four popular DVDs: Meridian Flow Motion, Energy Dance, Organic Energy Dance, and The Energy of the Poi.
One of Titanya's unique gifts, that was handed down from her Mother's side of family, is of hearing and feeling energy and a natural ability to heal intuitionally, letting her hands lead her as she went. Although, she will tell you that it was never her choice to have this gift, because it's hard to be so sensitive. Still it has been rewarding helping others and it has taught her much about life. Titanya fine-tuned her skills by getting certified through the Eden Energy Medicine certification programs.  Her path led her to find her own way of using her healing and intuitive gifts; through teaching and becoming an expert in the emerging field of Life Colors.
Titanya has been researching life colors and fine-tuning her skills in the field for more than a decade and is now the leading expert in the world. She has identified hundreds of life color shades and besides giving personal readings; she teaches the subject and has compiled more than five-hundred pages of notes, so you can bet that her expertise will emerge into a book on the subject.
As a Teacher…
---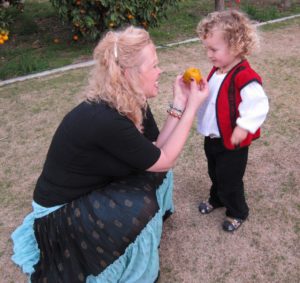 Titanya loves children and has never lost her connection to her "Inner Child" herself; this is why she makes such a great teacher. She used to teach children in  daycare and preschool centers in the 1980's.
She created her own form of children's movement classes, incorporating the culture and dance of many different countries while living in Boulder, Colorado. Later, she created a children's dancing troupe, dancing for festivals around Colorado.
After moving back to Southern California, Titanya found herself more involved with Energy Medicine, her Mother's life-long work. For over 20 years, she has been combining Energy Medicine with her Waldorf Education background and bringing it into workshops and classes for adults in the Eden Energy Medicine Certification program. The classes are so popular, for as we all know the adult soul is in constant healing of our own Inner Child.
Titanya also leads sacred ceremony mainly in her Mother's Eden Energy Medicine programs, but all over the world where invited. She has a long history studying privately since her early teens in the art of group ritual and sacred space.
As a Teacher in Dance…
---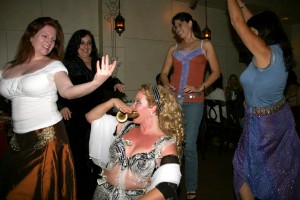 Titanya found Middle Eastern dance in 1982 when she was still in high school, and learned it from her godmother. She feels that she had extraordinary teachers and loves to give this feeling back to her own students. Attracted to the history and empowerment of this strong woman's dance, and how she felt this strength and empowerment in her own body, Titanya drank up everything that came to her and now is very knowledgeable in the culture and dance of the Middle East. Since then, she has loved sharing and teaching this dance with its beautiful ancient story to women, all over the world, to find their own female empowerment.
Titanya began dancing professionally in 1990 in the nightclub scenes in San Diego and then quickly moved to Europe to continue her career overseas. Dancing throughout Europe while going to school, she entertained audiences with her one woman shows, filled with storytelling, dance and music. Moving back to the United States, she formed the Bedouin Moon Dance Theatre in Boulder, Colorado and founded the Nightingale and the Performing Arts Company in 1997. With her company, She produced professional stage productions, such as The Goddess Dances, Rock, Roll and Belly dance and a 31 cast version of Scheherazade ~ The Veil behind the Blade.
---
Titanya now travels all over the world teaching Middle Eastern Dance. Since becoming more involved with her Mother's work in 1996, Titanya has been incorporating Energy Medicine and the ancient Chinese Five Element system into her belly dance workshops, calling them Five Element Belly dance. With her belly dancing sister, Dondi, they teach together at annual retreat workshops in this very unique style. These two sisters enhance each other in their own unique styles and elements, Titanya brings an element of spiritualism and healing to the belly dance while Dondi brings her expertise, technique and knowledge of this sacred art form. Their workshops are fantastic and having these two very different teachers makes a well-rounded class. They always have fun with lots of laughter and their students come back year after year!
"Titanya is the Movement Director at the Eden Energy Medicine Certification Program and travels all around the world, bringing Energy Medicine Dance and Energy Medicine for Kids at her Mother's workshops, over the last 20 years."