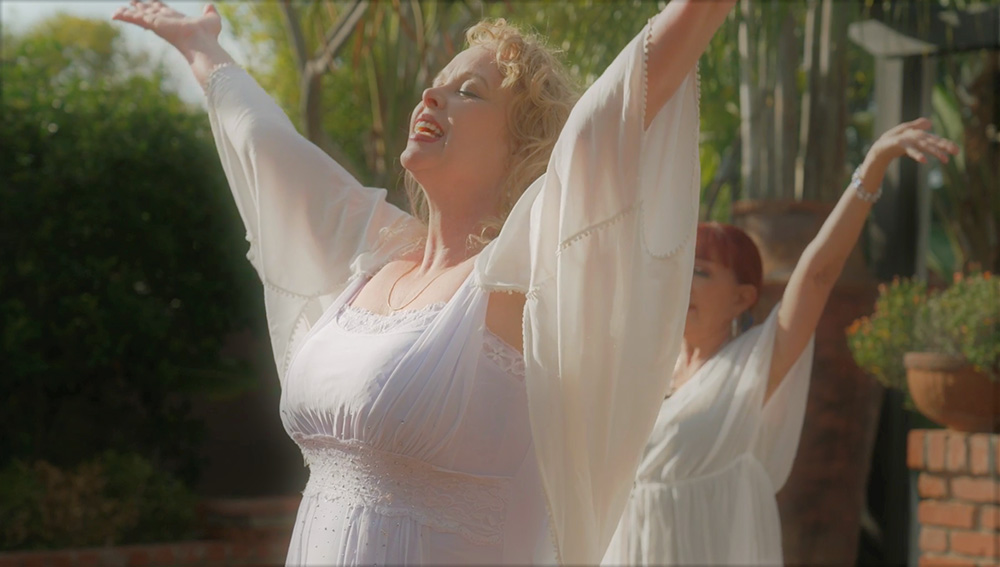 "Your body will love Energy Medicine Dance!
When we follow the energy of the body organically, we release old stuck
trauma in your cells. When we begin to listen to the messages and needs of
our body and spirit, we begin to bring a compassionate love to our whole
system, healing the old wounds."
-Titanya Monique Dahlin
Titanya has incorporated her life-long career, and love of world dance with her knowledge of healing and personal empowerment, and blended her Mother's natural healing work of Energy Medicine, to give your body, mind and spirit a full body workout. With world music and fun beats, you begin to find your own "funky flow", freeing the body through breath and ease to heal your soul's wounds from the inside out.
Being a dancer from a very early age and later becoming a professional Middle Eastern dancer empowering women to find their own Divine Feminine, Titanya saw that Donna's students needed a better way to remember the Energy Medicine exercises, rather than feeling like they may be a chore (like remembering to floss your teeth, which isn't enjoyable for everyone). Titanya added world music to the energy exercises for a more organic flow and Energy Medicine Dance™ was born! Bringing more flow through continuous movement infused with the joyful, inspirational music, increases the health benefits of the Eden Energy Medicine exercises.
Titanya's Energy Medicine Dance™ decreases stress hormones and increases feel-good endorphins, giving your whole energy system a natural energy boost!
Energy Medicine Dancing balances all the systems in the body including Chakras, Meridians, Five Elements and turns on what my Mother, Donna Eden calls the "Radiant Circuits" which are "Joy Generators" throughout the body that make you naturally smile and feel good.
You need these endorphins running through your body because they can help you heal quicker.
Dancing and movement turn on the body's natural feelings of pleasure and eliminate the "fight or flight" response that we can get from daily activities such as work, driving and sometimes managing stressful personal relationships.
"Titanya has taken Energy Medicine and combined it with music to make it fun, and artistically delightful. She teaches practical exercises with movement which inspire motivation and joy in my classes. Now you can do them in your own home. They're awesome!"
-Donna Eden, author of Energy Medicine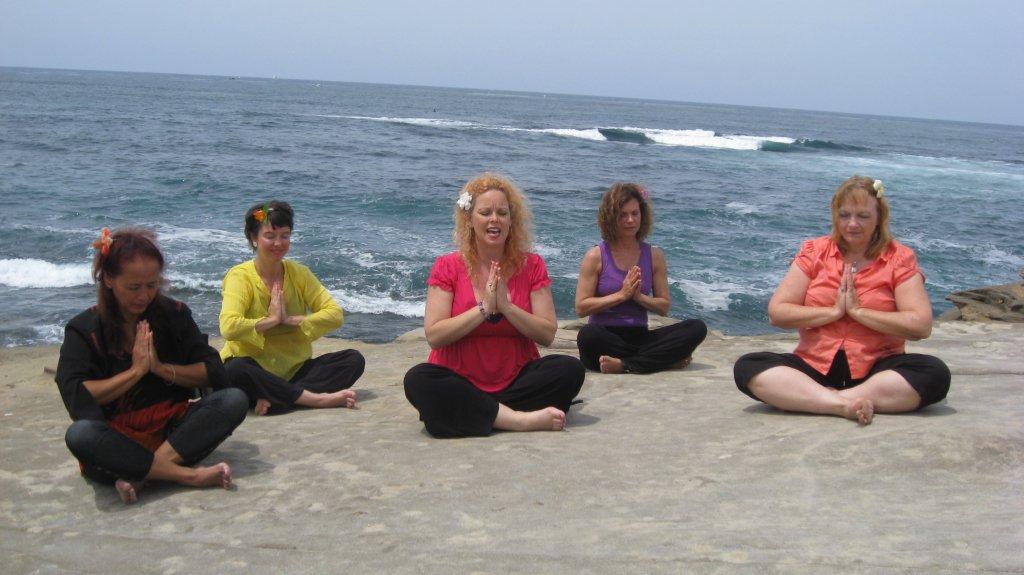 Energy Medicine Dance at the Energy Psychology Conference in Lyon, France.
"Join Titanya and the Energy Medicine Dancers for some Energy Medicine Dance!"
Titanya's Energy Medicine Dance™ is a whole-body joyous workout that is a combination of world dance, yoga, stretch, aerobics, visualization, breath work and ancient-inspired exercises set to uplifting world beat music.
"When you begin to move organically in tune to your own needs of your body and spirit, you begin to bring a healing love to your whole system. Dancing wildly and with joy allows you to release old stuck traumas in your cells. Your body will love Energy Medicine Dance!" ~ Titanya Dahlin
In Titanya's workshops, she may:
Help you find your own empowerment, in different ways with movement, visualization and joy.
Show you how to move organically, exploring and cleansing the body's chakra system, freeing the emotional scars of your own life's journey.
Connect you to your body's meridian pathways, through yogic like exercises.
Teach you about the knowledge of the Eden Energy Medicine basics, including the stories of the Chakras, Meridian Archetypes and their emotional pathways, the ancient "Strange Flows" and the Chinese Five Elements and the emotions and organs they govern.
Show you different techniques of stress-management knowledge through acupressure and lymphatic points in Eden Energy Medicine.
Guide you in creating art and write in journals to follow your own soul's growth and awareness.
Prepare you for tuning into your right brain, letting go of the outside world for a while and retreat into your own body awareness.
Energy Medicine Dance for Kid's!
Titanya leading Energy Medicine Dance at the Eden Energy Medicine Certification Program, 2015.
Energy Medicine Dance™ helps you to strengthen your self-esteem and connect to your body in a new way. It can motivate you to envision your goals and awaken your senses through guided visualization and dance ritual that Titanya leads you through.
Participants in her workshops also become part of a healing and supportive community as they witness and move in-between and with each other. Many emotions arise from crying to laughter, until they are released through dance ecstasy and are fully cleansed, balanced and brought to a happy, more peaceful place. The dancers become the creators of their own inner journey as they move freely, finding the authentic movement of who they are in that present moment. It's a great experience!
Energy Medicine Dance™ is for everyone! Every size, Every age, and can even be done in a chair or in bed! You do not need to be a dancer to experience it!
Titanya has been teaching Energy Medicine Dance™ for more than 17 years. Her popular DVD's have sold all over the world. She has taught to crowds as large as over 1,000 people and as small as a few lucky individuals in workshops around world.
Some of the sacred places she has taught at include: Omega Institute (for over 12 years), Esalen Institute, Feathered Pipe Ranch and International Body, Mind, Spirit festivals and so many more.
Bring Titanya's Energy Medicine Dance home with one of her DVD's
---
"A deeply original, state-of-the-art experience of Energy Medicine Dance, connecting the 12 Meridians of the body with the great archetypal structures that guide our passions and possibilities." ~ Jean Houston, Ph.D.
[button link="/shop/" color="purple"] Buy Energy Medicine Dance DVD's[/button]
Titanya's popular Energy Medicine Dance DVDs have been sold all over the world for more than a decade.
"There is a vitality, a life force, an energy, a quickening that is translated through you into action and because there is only one of you in all of time, this expression is unique. And if you block it, it will never exist through any other medium and be lost." – Martha Graham
"Consciousness expresses itself through creation. This world we live in is the dance of the creator. Dancers come and go in the twinkling of an eye but the dance lives on. On many an occasion, when I am dancing, I have felt touched by something sacred. In those moments, I felt my spirit soar and become one with everything that exists. I become the stars and the moon. I become the lover and the beloved. I become the victor and the vanquished. I become the master and the slave. I become the singer and the song. I become the knower and the known. I keep on dancing and then, it is the eternal dance of creation. The creator and the creation merge into one wholeness of joy. I keep on dancing – until there is only… the dance." ~Michael Jackson, 1992-2009
Titanya's Mer- Energy Medicine Dance ~
Titanya even takes Energy Medicine Dance into the water! Come dance in the water like a Mermaid or Merman!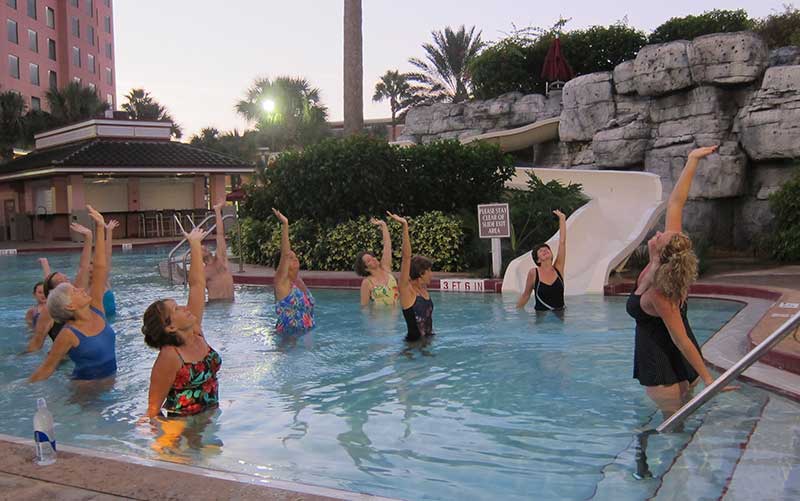 You can experience Titanya's Mer-Energy Medicine Dance whenever Donna's Workshops have a pool and warm weather. It's an experience you won't forget!
Water is helpful for poor circulation throughout the body, such as arthritis, lymphomas, DVT's and blood clots, as well as some immune illnesses. As you move in the water, you do not need to do much in order to feel your body react.As you dance through the water, the water's swirling energy around you creates figure eights for your own health, as well as creating a natural protection around your aura. Water is a great element, because you feel light and limitless.
Water is also great for overweight people. They will feel that the water is supporting them, as they move. The swirling motions of the water help move fat cells to circulate. Of course, the biggest gain is that they turn on the Radiant Circuits and balance your whole system.
"We use the same techniques, movements and visualizations as Energy Medicine Dance on land, but now we are held up by the power of the water. These are movements that you can do only in the water, such as a 'Whole- Body Cross-Crawl', using the whole body instead of just the arms and legs."- Titanya
"When all else Fails, Don't forget to Dance." ~ Iyanla Vanzant
If you are interested in Titanya's Energy Medicine Bellydance Click Here