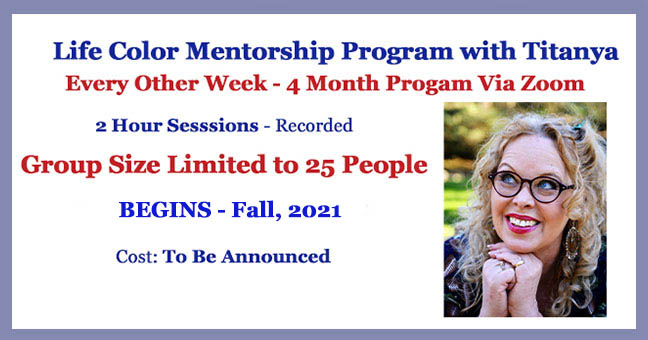 Every Other Week 4 Month Program with Titanya via Zoom that will begin Fall, 2021.
2 Hours every week and the sessions will be recorded.
Group size is LIMITED to 25 people.
If interested, please Contact Titanya via the website Contact page here and make sure in the comments that you express your interest in getting more information about the Life Color Reading Mentorship Program. You will be added to Titanya's Email Newsletter where the official announcement and registration will be released. It is your responsibility to watch for the announcement newsletter and register before the limit fills.
COST: To Be Announced. QUESTIONS? This is all the information available until the release of the program. Titanya will be planning the program up until her Email Newsletter announcement release. Thank you for your understanding.
Program Description Highlights:
Titanya will lead the group, going deeper into many aspects Life Colors and Life Color combinations.
Two live Life Color readings will be demonstrated from two volunteers.
A close-up experience with the Life Color Reading process with personal coaching tips.
Plenty of time each week for questions and answers.
Titanya will identify the Life Colors of everyone in the group.
Learn how the Five Elements and Sensory Systems interact with Life Colors.
Training to help you develop your natural intuition.
A certificate of completion at the end.